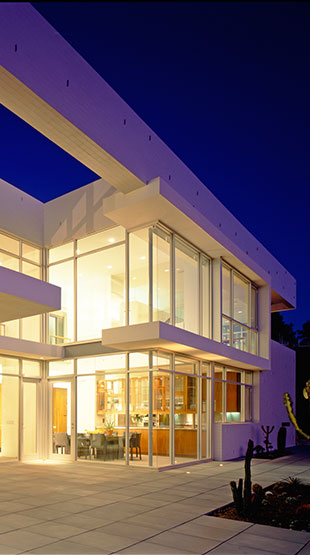 LUXURY GLASS DOORS offers an array of glass products to fulfill your projects needs:
Laminated Glass: clear, ultraclear or tinted glass with clear or custom Interlayers
Hurricane Resistant Glass: 6mm HS + 0.90 PVB interlayer + 6mm HS
Low E- high performance glass, utilizing infra-red radiation blocking technology
Ultra Clear Glass: Starphire®/ Optiwhite™ / Diamante Glass
Tempered Glass
Tempered glass, often referred to as Safety glass, is approximately four times stronger than annealed glass of the same thickness and configuration. When it is broken, tempered glass fractures into small fragments that reduce the probability of serious injury as compared to annealed glass. Tempered glass meets all safety glazing standards including the US- federal safety glazing standard, CPSC 16 CFR 1201. Because tempered glass fractures into many small pieces, it tends to vacate the opening, when broken, more than heat-strengthened glass does.
Heat Strengthened Glass (HS)
Almost the strength of tempered glass, Heat-Strengthened glass (HS) generally fractures in a characteristic "spider web" cracking pattern and tends to remain in the opening when broken. It is intended for general glazing where additional strength and/or resistance to mechanical and/or thermal stress are desired.
Heat-strengthened glass is widely used in laminated glass when additional strength is required to protect against impact.
Laminated Glass: clear, ultraclear or tinted glass with clear or custom Interlayers
Laminated glass is a type of safety glass that holds together when shattered. In the event of breaking, it is held in place by an interlayer, typically of polyvinyl butyral (PVB), between its two or more layers of glass. The interlayer keeps the layers of glass bonded even when broken and its high strength prevents the glass from breaking into large sharp pieces. This produces a characteristic "spider web" cracking pattern when the impact is not enough to completely pierce the glass. Laminated glass is normally used when there is a possibility where the glass could fall if shattered. In geographical areas requiring hurricane-resistant construction, laminated Heat-Strengthened glass utilizing special interlayers is used in exterior storefronts, curtain walls and doors and windows. The PVB interlayer also gives the glass a much higher sound insulation rating due to the damping effect and also blocks 99% of transmitted UV light.
Hurricane Resistant Glass: 6mm HS + 0.90 PVB interlayer + 6mm HS
Hurricane Resistant Glass, also known as Impact-Resistant Glass, a laminated glass consisting of Heat-Strengthened Glass and specially designed high-performance interlayers is designed to protect against the effects of storms and hurricanes. During the sustained, high-speed winds of a hurricane, debris can be lifted and become an airborne missile or wind-borne debris. Large missiles, such as roof shingles and other construction materials are common. When wind-borne debris breaks glass windows and doors, the building's protective exterior "envelop" is compromised, allowing strong winds and a lot of rain water to rush into the structure. These trapped wind forces then exert upward pressure on the roof and outward pressure on exterior walls and can eventually cause total destruction. Hurricane Resistant Glass in properly designed windows and doors can withstand the damaging impact of wind-borne debris and remain in the opening during hurricane-force winds because the glass will stay intact even if cracked. Hurricane Resistant Glass provides not only wind-load debris protection but also delivers safety from human impact, security against forced entry, blast resistance, acoustical damping, solar control and screening of UV radiation, which is also known to cause skin cancer .
Low E- high performance glass, utilizing infra-red radiation blocking technology
There are two types of Low-E glass: hard coat and soft coat. The two types of Low-E glass have different performance characteristics. The soft coat process has the ability to reflect more heat back to the source. It typically has a higher R value. R values are a measure of resistance to heat loss. The higher the R value of a material, the better its insulating qualities. Hard coat Low-E glass often has a blue-ish tint to it.
Super Neutral Low- E Glass
Super Neutral Low- E is highly efficient in transmitting light but still blocks 62 percent of solar heat. This relationship is often measured by the "light to solar gain factor" (LSG) which is the ratio of light transmission to solar heat gain and is a good measurement of the efficiency of a particular glazing. The LSG is 1.80, which offers an extraordinary combination of high light and low heat transmittance. Highly versatile, it also prevents heat loss from the interior of the building in cooler climates.Super Neutral Low- E Glass
Insulated Glass / Dual Glazed
Insulating glass is a multi-glass combination consisting of two or more panes enclosing a hermetically-sealed air space. The most important function of insulating glass is to reduce thermal losses, which offers many advantages: lower energy consumption, perfect transparency by reducing the incidence of condensation on the warm air side and the possibility of using larger glazed areas without increasing energy consumption.
Bent (curved) Glass
Bent glass or Curved glass is glass which is curved with a special process by slowly heating the glass to approximately 600°C, at which the glass softens sufficiently and takes the shape of the mold.
Ultra Clear Glass: Starphire®/ Optiwhite™ / Diamante Glass
Starphire® Ultra-Clear glass offers the ultimate in brilliant transparency for applications where maximum glass clarity is desired, i.e. projects with exceptional ocean and garden views. It is manufactured with a proprietary low-iron formulation.
Reflective
This is an ordinary glass with a metallic coating to reduce solar heat. This special metallic coating which is available on clear or tinted glass provides glass with solar protection in a variety of reflectivity levels; it also produces a mirror effect, preventing the subject from seeing through the glass.
Tinted Glass
Upon request, we can match your color choice.